Feel like something fried? Well take out that deep fryer and follow along!
Home Made Fried Chicken & French Fries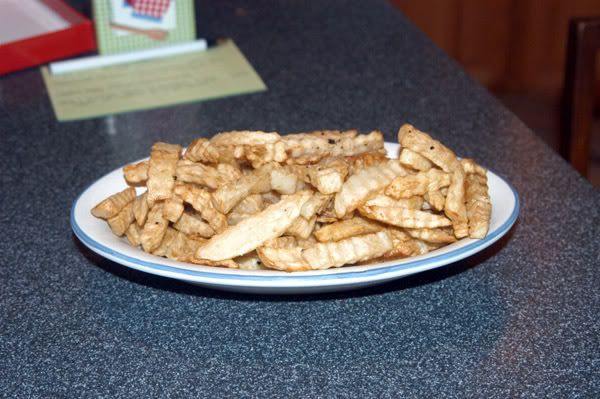 Ingredients:

Chicken Legs - Amount depends on your family size & what they eat. I do 4 each for

Dave

& I.
Potatoes - 5 Large potatoes should make enough for a 2 adults & 2 children.

Dave

& I

love

fries so I make a ton when I do them!
1 or 2 Eggs
Flour
Veg Oil

Condiments
Other Kitchen Supplies / Tools:
Deep Fryer
Baking Dish with lid (or foil)

2 Bowls (1 for egg, 1 for flour, big enough to roll chicken legs in)
Crinkle cutter or knife
2 Kitchen Timers (or a clock)

Steps to Fried Goodness:
Preheat the oven to 350.
Fill your deep fryer with required oil. You don't need to turn it on yet.

Spray your baking pan with non stick spray & layout your legs in a single layer. Cover.

Put your legs in the oven and set your timer for 30 minutes.
Wash your potatoes. Don't dry them. The wetter is better!
Use your crinkle cutter or knife and chop your potatoes into little fries. Trust me you

CANNOT

screw up fries. It doesn't matter what shape you cut them! Only thing that will change is the thicker the fries, the longer they should be fried! :)I use the Pampered Chef crinkle cutter!





Divide your fries into batches for frying. Depending on the size of your deep fryer you may be able to do them all at once or it may take you 5 turns. You want to only fill the basket about 1/2 way to ensure even frying and that you don't overflow your oil. Set aside.
Is the first 30 minutes up on your chicken yet? When it is, rotate your legs and put them back in still covered for 20 minutes this time.
Plug in or turn on your deep fryer.

Take out your 2 bowls and break your egg or eggs (depending on the amount of chicken) into one. Put a cup of flour into the other. You may have to add more flour later but why do extra if its not needed. You can also add bread crumbs, pepper, or any other seasoning to your flour depending on what type of fried chicken you want. Spicy, Crispy, Original, etc. Set aside for chicken.
Start your first batch of fries. I found with my deep fryer that 8 minutes per batch works but depending on the size of your deep fryer this time may vary. Consult your user guide for yours but mostly I found trial and error works best for deciding best frying times. Make sure you push start on your timer as soon as you put them in. Layout a few paper towels or white napkins on a plate for the cooked fries to dry up extra oil.

By this time your chicken should be done its 20 minutes. Remove the cover and bake for an additional 10 minutes. this is what works for my oven. you may find that your chicken needs a few more or few less minutes. Just remember the longer it cooks covered it keeps the juices in and makes it more tender and cooked throughout. Then the additional minutes uncovered are to brown the outside and cook the skin.
While

that's

finishing up keep working on those fries. Make sure you start earlier if you have more batches than time allows for.

After your chicken is done the 10 minutes pull it out of the oven and put on a plate to cool slightly.





Fries done yet? If not keep dropping them and make 2 pitchers of ice tea to go with dinner while your waiting. [[Boil water and 6 tea bags in a 2 quart sauce pan. Bring to a full boil then let steep for 5 minutes. Put 1/2 cup sugar in each pitcher and then pour 1/2 the pot of tea into each pitcher. Fill the rest of each with cold water & ice and stir.]]
With your fries done or the last batch in the fryer use tongs and roll your chicken legs in your egg, coating it well. Then drop each leg into the flour mixture coating it completely. When adding the chicken legs into the basket remember to keep them spaced at least a little between and only 1 layer deep.

Drop the basket into your deep

fryer

. time them for 8 minutes and then check them. If they

don't

look crispy try adding 2 minutes and check again. They are like the fries, your deep fryer time may vary based on its size and the model.
Hint: to keep your fries warm set your stove back to 150 or 200 and spread them on a cookie sheet! Keep an eye on them and make sure they

aren't

too close to the element or they will burn.

Repeat breading and frying with all chicken.
ENJOY!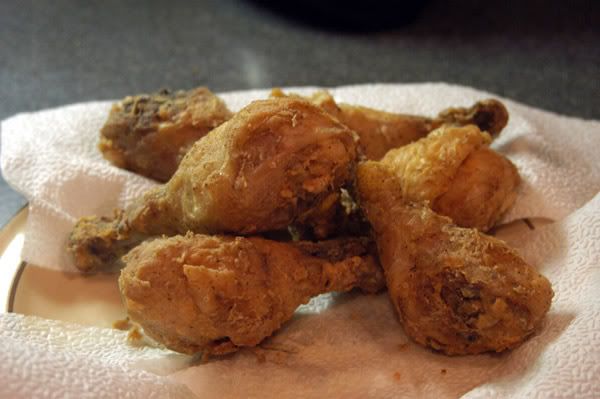 We like to use a variety of condiments on our fries. I alternate vinegars and old bay and an old bay rub!
mmm
! Dave likes to use cider vinegar and salt or good old fashioned Ketchup.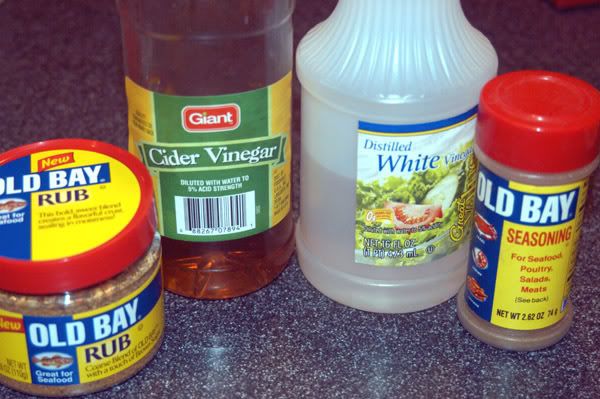 The dollar tree by us even had these cute plastic diner baskets about a year ago. A pack of 4 for $1. What kid
wouldn't
love eating this great meal out of one of these? Add some wax paper and put each persons chicken & fries in for a easy cleanup. Just toss the paper and rinse the baskets.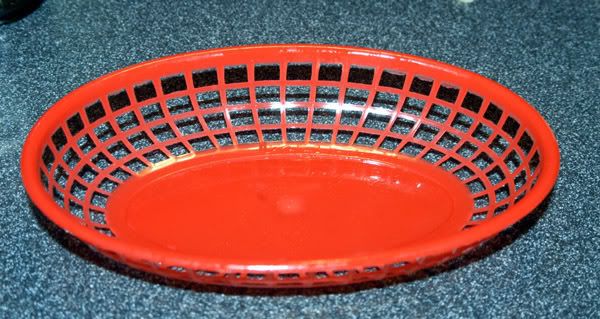 Want more than just fried chicken and fries? Serve mac & cheese, pasta salad and/or a veggie to go with it too! Green beans or baked beans are two of our favorites to add!
Any questions or comments about this recipe let me know! Enjoy your fried night!