A while ago I started my Search for the Perfect Diaper Bag. I found a excellent place to buy everything I needed to organize Elijah's bag,Let's Go Strolling.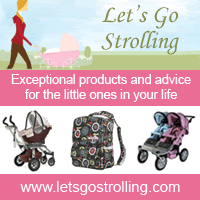 How many of you moms use your diaper bag as your purse, lunch bag, trash can, tot suitcase AND then maybe to carry diapers? There is a tagged post going around and when you're tagged you are supposed to write a blog post listing the items in your diaper bag. Now I am not going to call anyone out here but I have read some rather interesting items this past month. One included nail polish and lipstick that exploded open. Another even included a used tampon… eewww What was that mom thinking???
Either way there is no rule saying your diaper bag has to include ONLY baby stuff. In fact I have a little emergency Mommy kit in mine that includes a nail file, aspirin, and NEW, not used, NEW, pads and tampons among other things. It just makes sense if you have to carry a bag anyway, why not just make it ONE bag instead of two or more. The trick is to organize that one bag!
Let just talk about the diapering section since that's really what the bag is for to begin with anyway. There are some great choices at Let's go strolling for diapering accessories!
As for wipes themselves my FAVORITE wipe case EVER, is the
Skip Hop SWIPE case. Besides the fact that it has the strap so you can attach it on to your diaper bag, stroller or you wrist to carry it easily, it only takes one hand to open! You just push that red button and slide your hand across. Great for trying to change the baby by yourself when you're out! It's BPA-free, Phthalate-free, PVC-free, so you know its safe. That is by far my favorite wipe case, but there are others if that one doesn't grab you.
Like this Made By Angie, handmade wipe case! This little cute wipe case makes taking your wipes out a little more fun!
Now how about those diapers? You could get an awesome changing pad, like a Bumm Runner or you could get a
Skip Hop Pronto Mini Changer. This thing is awesome! It has everything you need! I am starting to become a huge fan of leaving the big diaper bag in the car and carrying a little changing station into places with me. I think this is my favorite all in one so far. They have 4 different styles so even Dad can carry it and it not scream "I may be carrying a man purse!" It comes with the extra wide, wipe clean changing pad attached, but it can be zipped off to be used by itself even! I comes with its own wipe case and lots of great pocket space! You should really check this thing out!
If you're looking for something even smaller the
Diapees and Wipees
or
Ju-Ju-Be Be Quick
are both great choices!
Both great for grab and go diapering! And available in many different prints so you should be able to find something to match your favorite bags.
If you're a cloth diapering momma,
Let's Go Strolling
has something special for your diapering on the go too! They have a
Generation Baby Wet Sack
!
This waterproof durable bag is perfect for containing dirty cloth diapers, bathing suits, anything you don't want leaking all over your bag. It's machine washable and dryable, phthalate and lead free. Elijah is always making a mess on something. Whether its just his soaking wet bibs from drooling all over the place or he has a diaper explosion that wet sack is great. Or if you want something a little more disposable try
Diaper Mate Disposable Diaper Bags
. Those are great for containing Elijah's little messes. The dispenser is perfect for his diaper bag.
There is so much else I want to buy!!! The
Best Loom Zoom Kit
is a great carry all. Not just for diapering, but for carrying a bottle and some snacks as well.
And don't forget to get a
Stroller Swiveler
to attach those accessories onto your stroller handles!
And yes! They even have that little diaper bag accessory for us moms! The
Ju-Ju-Be BeMine
! – It comes in many styles so you can carry this in the diaper bag and then when you need to go without the bag or baby (i know… gasp…) you can just grab it out yourself and go.
Well I hope some of these diapering ideas will help to organize your diaper bag! And make sure you check out
Let's Go Strolling
for many other great accessories.
Want a hand starting out that organization? Or maybe you need the whole diaper bag!?!?!
Let's Go Strolling
wants to give one of my readers a head start with a $15 gift certificate!
To Enter:
Please visit
Let's Go Strolling
and sign up for their newsletter and look around ! Come back and leave a comment with the email address you signed up with and your favorite item in their store. You must leave all required information or you will be disqualified! One entry per household!
For extra entries:
Subscribe to their blog,

Strolling Along

, Through RSS or Email. Leave one extra comment leaving the reader you subscribe through or the email you subscribed with.

Blog about this giveaway. Come back and leave me another comment with your link.
You MUST leave separate comments for each!
This giveaway will run until Midnight EST, March 2nd, 2009.
Good Luck!